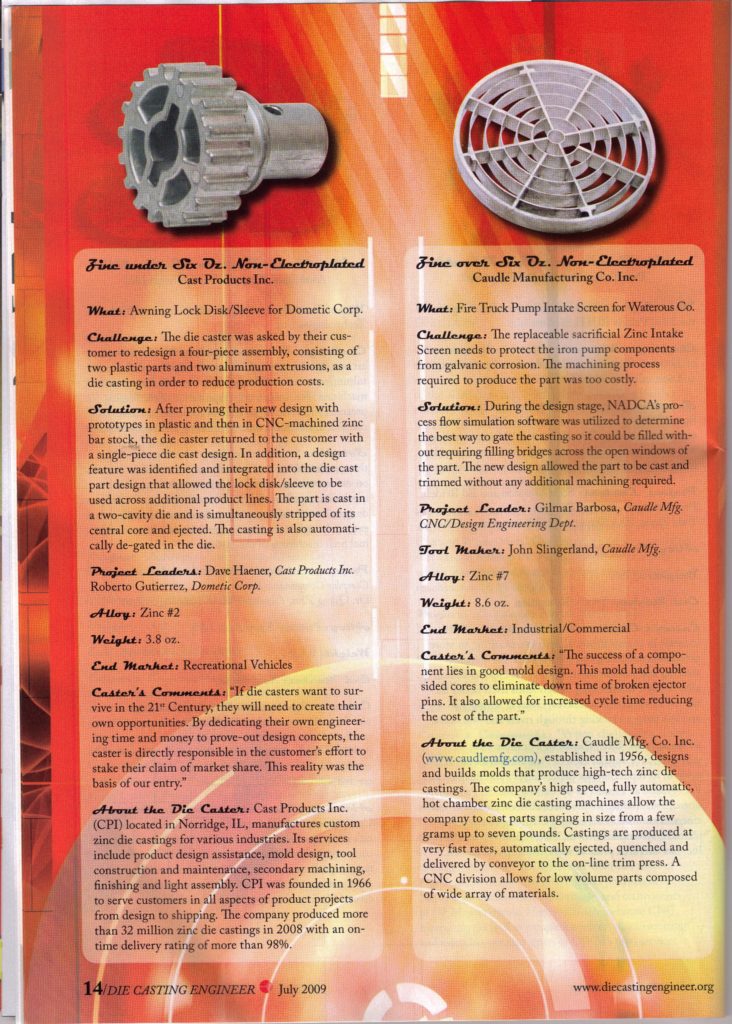 An Award-Winning Zinc Die Casting Company
Get the decorative and functional die castings you need for your business with services from Caudle Manufacturing Company Inc. (CMC), a globally trusted zinc die casting company. Since 1956, we have been designing and building molds that produce high-tech zinc die castings from as small as a few grams to 7 pounds.
We are constantly investing in and updating our equipment to maintain piece pricing that saves you money. Rely on our zinc die casting experts today, and we will ensure that all custom components you require will be manufactured on time.
Why Engineers Choose Zinc
Durable and Superior Finishing
Zinc die casting alloys are strong, cost-effective materials. Their mechanical properties and superior finishing capabilities make them the choice of today's engineers.
Increased Cycle Times
The die-casting production rates for zinc are much faster than aluminum or magnesium—our process results in a lower per-piece price.
Hot-Chamber Process
Zinc allows for thin-wall design, saving on material costs. It is a "lightweight" component.
Request a Quote for Your Die-Casting Project
Let us put over 66 years of industry knowledge and experience to work for you. No matter what zinc die castings you need, you can count on us. Provide us with a 2D drawing or a CAD file, and we will give you a quote for your project. With your approval, we will manufacture those parts or components. We make everything from golf club heads to respirator parts to lab centrifuges to gun and fire truck parts. Call or email us today to get started.
Contact Us